Langcaster dark Kauri & Langcaster Cobra review in
20th Century Guitar Magazine USA , March issue !
With the Ultimate Lo-impedance Pickups and Overdrive.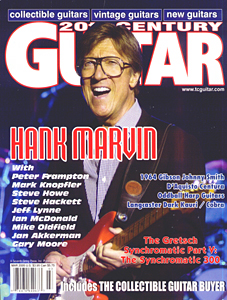 Review by : Ray Matuza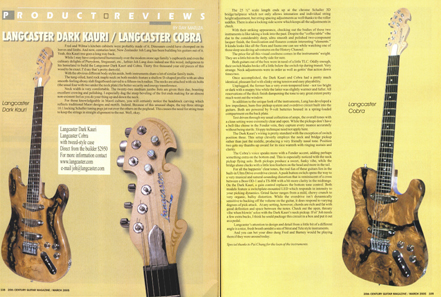 Fred and Wilma's kitchen cabinets were probably made of it. Dinosaurs could have chomped on its leaves and limbs. And now, centuries later, New Zealander Joh Lang has been building his guitars out of it. Yeah, this Kauri tree goes a long way back.
While I may have conjectured humorously over the modern stone age family's cupboards and even the culinary delights of Pterydons, Stegasauri, etc., luthier Joh Lang does indeed use this wood, indigenous to his homeland to build the Langcaster Dark Kauri and Cobra. Thirty five thousand year old pieces of this wood to be exact. I'd say that's pretty darn old.
With the obvious different body styles aside, both instruments share a lot of similar family traits
The tung oiled, hard rock maple neck on both models feature a shallow D-shaped profile with an ultra smooth feeling ebony slab finger board curved to a fifteen inch radius. The necks are attached with six bolts (the usual four with two under the neck plate) for better security and energy transference.
Neck width is very comfortable. The twenty two medium jumbo frets are given their due, boasting excellent crowning and polishing. I especially dug the steep beveling of the fret ends making for an almost non existent feel as you do your thing up and down the neck
for hose knowledgeable in Maori culture, you will certainly notice the head stock carving which reflects traditional Maori designs and motifs. Indeed. Because of this unusual shape, the top three strings 16:1 locking Schaller tuning pegs jut out over the others on the peghead. This causes the need for string trees to keep the strings in straight alignment with the nut. Well, okay.
The 25 1/2" scale length ends up at the chrome Schaller 3D bridge/tailpiece which not only allows intonation and individual string height adjustment, but string spacing adjustments as well thanks to the roller saddles. There is also a locking side screw which keeps all the adjustments in check.
With their striking appearance, checking out the bodies of these two instruments is like taking a look into the past. Despite the "coffee table" vibe due o the considerably deep, ultra smooth and polished two -component lacquer finish, the fossilization and fissures contain interesting "elements" It kinda looks like all the flora and fauna one can see wile watching one of those deep sea diving adventures on the History Channel.
the price for all this visual coolness comes in the instrument's weight. They are a little bit on the hefty side for sure.
Neck adjustments were in order as well as getting' that action down.
Once accomplished, the Dark Kauri and Cobra had a pretty much identical, pleasant feel with slinky string tension and easy playability.
Unplugged, the former has a very eve tempered tone, not too bright or dark with a sappy bite while the latter was slightly warmer and fuller. All reservations of the thick fish dampening the tone to any great extent pretty much wet out the window.
In addition to the unique look of the instruments, Lang as developed a low impedance, hum free pick up system and overdrive circuit build into the guitars. Both are powered by 9-volt batteries housed in a spring loaded compartment of the back plate
Test driven through my usual collection of amps, the overall tones with a clean setting were extremely clear and open. While the pickups don' have a bell like chime in the Fender vibe, they capture every nuance accurately without being sterile. Sloppy technique need not apply here.
The Dark Kauri's wiring s pretty standard with the exception of switch position three. This setup cleverly employs the neck and bridge pick up rater than just the middle, producing a very friendly nasal tone. Position two gets my thumbs up award for its nice warmth and ringing sustain and clarity.
The Cobra's voice speaks more with a Fender accent, adding perhaps something extra on the bottom end. This is especially noticed wit the neck pickup flying solo. Both pickups produce a sweet, funky vibe, while the bridge aloe clucks with a little less feathers on the head and more in the tail.
For all the happening' clear tones, the real fun of these guitars lies in the built-in Ultra Drive overdrive circuit. A push of the button switch opens the way to a very musical and natural sounding distortion that is reminiscent of a cross between a Boss OD-1 and a TS-808 with a bit more clarity in the midrange. On the Dark Kauri, a gain control replaces the bottom tone control. Both models feature a switch plate mounted LED which responds in intensity to your picking dynamics. Grind factor ranges from a mild, chewy crunch to very organic, ballsy distortion. While the overdrive isn't dynamically sensitive to backing off the volume on the guitar, it does respond to varying degrees of pick attack.l At any setting, however, chords are rich and fat wit good definition and space between the notes. Check out the open, throaty vibe when blowin' solos wit the Dark Kauri's neck pick up. If ol' Joh needs a few extra bucks, I think he should package this circuit in a box and put it out as a pedal.
Langcaster's attention to design and detail from a little bit of a different angle is a nice, fresh breath amidst a sea of Strat and Tele style instruments.
And you can bet your dino dung Fred and Barney would be playing them if they were around today.

Special thanks to Pai Chung (Philadelphia USA ), for the loan of the instruments .


Langcaster has an interesting website with sound & Movie samples: www.langcaster.com .

35OOO Year old Kauri is hard to find and a treasure to have.