Langcaster Guitar Review for New Zealand Musician Magazine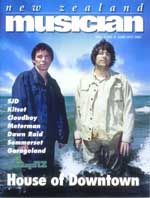 Made In NZ
Joh Lang's 35,000 Year Old Langcaster Guitars
By Dominic Blaazer
Joh Lang has lived in New Zealand for over 25 years and began building guitars in his native Netherlands in the 1960s. One of Johs drummers at the time, Piere van de Linden, later joined Dutch supergroup Focus and Joh himself sang ones or twice of virtuoso guitarist Jan Akkermans early bands. If you remember Pop Score magazine from the 70s, then youve Joh to thank for that: he published it here and in Australia, for two years.
He loves rocknroll (put another dime ) and runs his own website which is a tribute to dead rock stars. It features such morbid collectables as Kurt Cobains suicide note, an interview with Buddy Holly, Elvis will, details on the deaths and lives of Tupac, Karen Carpenter, Mama Cass, Misexs Steve Gilpin, Sid, Jimi, Janis and honestly thats just scratching the surface. It also informs the world about the Langcaster. (The site address is at the end of this article.)
Now I know it has always been possible to buy a locally-made new guitar there are many fine New Zealand luthiers ready to make your next guitar and I dont want to offend them, but theirs is mostly the world of the one-off custom special.
The point here is that Joh has developed a new model guitar (with a few pickup/tremolo/colour options), and that to see one for the first time I didnt have to make an appointment to visit his workshop. That gives Joh Lang the upper hand when it comes to impulse buying and there are people to whom around $4,500 is small change, particularly for something as unusual, as gorgeous and as high-end as the Langcaster.
Obviously, this guitar evolved from a design by Saint Leo de Fender. Like many luthiers before him, Joh tried to come up with some improvements and the resulting guitar shares little in real terms or parts with the original. He has been developing the Langcaster seriously for around a year, the definitive difference being that body, but really, there are more trick parts on this puppy than on next doors purple Torana.
Starting with the wood 35,000 year-old swamp kauri (yes, 35 big ones!) has to be one of the most eye-catching woods you could imagine, though it does needs stabilising. This is achieved through a secret process known only to Joh and his associate, Jaap Tediek, a furniture craftsman. Each body is kiln-dried then immersed in a special epoxy solution, followed by several layers of lacquer, creating a rock-hard gloss, good for another thousand years protection Joh reckons.
It all makes for a heavier guitar than most this shape tend to be, but leaning more toward Les than Leo, one of Johs biggest passions is sustain more on which later.
Content that he has the bodies right, Joh lines the cavities with copper sheeting, then fits a maple neck with a ebony fretboard, a 15 radius and double acton truss rods and 2 reinforcement rods. The headstock of the guitar I sampled is faced with South Island pearl, making for a very classy look, contrasting beautifully with the rosewood and kauri. Due to customer requests, Joh is about to make a batch with no pick guard, highlighting the body further still and a new stunning neck with a Maori hand carved pattern and Jade string trees.
In keeping with the standard he has set with the woodwork, Joh naturally desired the best hardware available for his Langcasters, and has sourced parts from around the world.
From Australia come Cris Kinmans pickups, which are already legendary for their tone and hum-free operation just ask Hank Marvin. Out of the States is the Sustainiac magnetic sustain device, which is an option on your Langcaster, if you like that sort of thing. Also from the US come the astounding Earvana adjustable compensating guitar nut. This allows extremely accurate tuning by replicating the staggered line you find on a guitar bridge, allowing you to kiss bad intonation goodbye forever. I certainly noticed the difference and its an easy retro-fit to most guitars. Joh loves all of these items so much, he is now the local agent for all three.
Machine heads are by the highly respected Schaller company and available in locking or standard sets. The bridge may be either a Schaller two-screw or a Gotoh six-screw, but under the hood of either youll find a non-standard heavyweight tremolo block that Joh has specially machined. It all makes for yummy sustain, he gloats like a professor with a secret formula.
Theres even a flash device, the Spring Claw, for anchoring the tremolo springs onto, which is tension-adjustable with an allen key. The tremolo gave a very smooth, precise action indeed, while retaining a standard look. Also rather trick is one of the paints Joh has been using, a metallic called Kaleidoscope, which changes colour from purple to blue as you move the guitar. Very tasteful but at $1000 a litre, he says hes laying off that one for a while!
All of these parts do make a beautiful sum the sustain is all there and thanks to the beautiful Langcaster or Kinman pickups, the sound is spot on, particularly through the trusty Fender Champ. Its also a 100% silent guitar you can put it down and leave the volume up; no hum, no nothing, you wont even know its on. This point will resound especially with home computer-based recordists.
Sales are taking off in America, where Joh has an agent in Texas. Thats real Fender country, illustrating that these guitars have the pulling power. Most guitarists are extremely traditional creatures, so to have so much innovation in such a traditional-looking package is a real drawcard for the Langcaster.
Johs US dealer wants him to send more, but he can only make around four a month in fact, Johs had to remove some from the shops here to sell them overseas, some going to pretty high-profile customers. He hopes to restock his local dealers soon so you can see and play one for yourselves. The one I looked over will soon may be in Eric Johnsons hands as you read this. Aerosmiths management bought one too, but wouldnt tell Joh who for.
The guitar is in New York but no one is saying who plays it, so it may be for the cleaner? Pffff!
Joh suspects they are scared of the purchase being perceived as an endorsement. Well be looking for a well endowed cleaner in their next few videos.
If the Langcaster is too traditional for you and you still crave innovation, theres always Johs other guitar The Stealth, sporting a shape reminiscent of the fighter plane. This has a Sustainiac Stealth sustainer installed as standard and while I didnt try one, I did see a video of one in use. Abso-shreddy-tastic! Its so good to see that nowadays the Kiwi gear can outclass the cheap, imported gear that surrounds it, and much of the top-shelf stuff too, when the perception used to be the other way round. If you are the buyer who is looking for say, a Vox or Fender Custom Shop amp/Paul Reed Smith combination or a Mesa Boogie/Les Paul set-up, you now need look no further than your own back yard.
To quote Joh Lang, Yummy!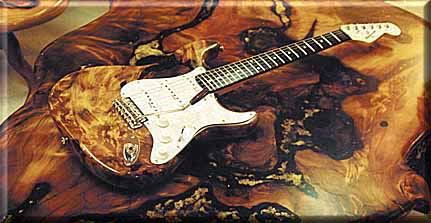 35OOO Year old Kauri is hard to find and a treasure to have.


Joh Lang can be contacted on:

E-mail
Po box 20266 Glen Eden Auckland New Zealand