Thanks for visiting my website scroll down the page for Video's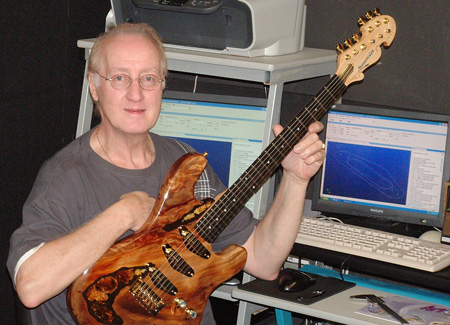 Langcaster guitars & Pickups DVD Documentary Trailer for TV
This is a trailer made for TV from the 30 min documentary "Kauri Tunes" by Visual Artz
The Making of Langcaster Guitars and Pickups in the guitar workshop.
Custom made guitars from 35000 year old swamp Kauri and the worlds first lo-impedance pickups + Overdrive
Beer crate custom made guitar with Langcaster pickup + Transmitter & Overdrive
" Now that is art"
Langcaster is in the THE UNIVERSAL RECORD DATABASE having the record of oldest wood ever used in a guitar!
see:


Signed guitars by the best guitar players in the world! cool!
| | |
| --- | --- |
| My 1972 Fender Stratocaster signed by Yngwie Malmsteen | My verry noisy 80's Kramer Striker signed by Steve Vai |
| | |
| --- | --- |
| | This Langaster guitar has the Kinman pickups and Earvana nut and is signed by Chris Thompson and Mads Eriksen the best player I have ever seen! |
Mads Eriksen playing a Langcaster at York Street Studios
This Langcaster was signed by Mads and Chris Tompson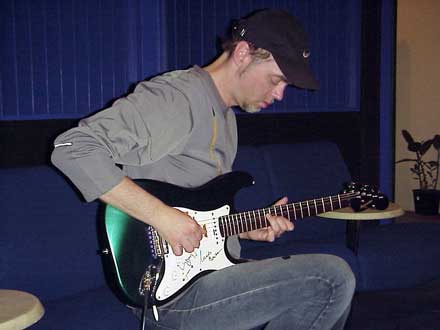 Danny Lang showing the pickup ring he makes on our CNC macine.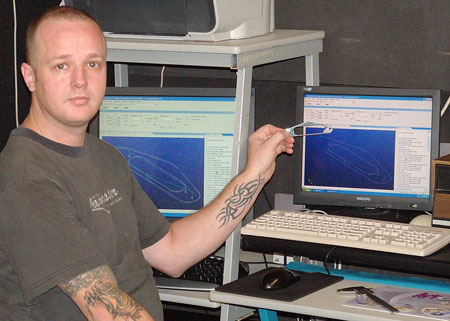 Erwin, Joh and Danny Lang at the Music Expo .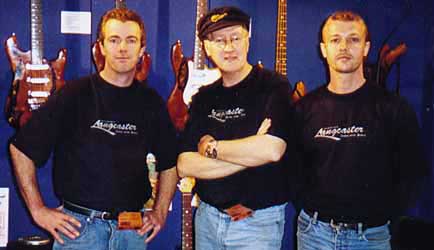 Wave station is a CD played and produced by Joh Lang on his KORG synthesizer
Songs are produced to be used for movie sound tracks, Tribute to Buddy Holly was to bring back the sound of 1959 when he died.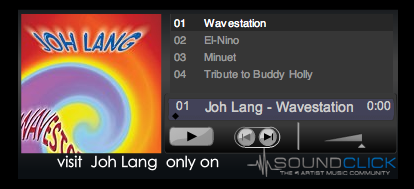 I have been a lover of guitars, played in bands, published rock magazines, had my own studio and recorded with other artists. So much fun and so little time!When digital recording came, we all had problems recording direct into a mixing desk without the cursed hummmmmm coming mainly from monitors.
It took hours of expensive studio time to control sustain and distortion.I remembered the beautiful tables made of 35,000 years old Kauri swamp roots from my Dutch friend, Jaap Tediek of Kauricraft.
I asked him if we could make a guitar from this astonishing wood and would it feel and sound good? After 6 months of a carving processing and looking for suitable parts of the root structure, we succeeded. An incredible guitar body that stops everyone in their tracks
.Then the search for noiseless pickups and controllable sustain was next! I had the need for a pickup with a louder and cleaner sound. It took one year to come up with a pickup that had a world class sound with a new approach to pickup development.
The world's first 8 magnetic pole pickup was created including a sweet Overdive.
Now, I use my own creation. The Lo-impedance pickups!! To date, I have not found a better sounding pickup in the world! This is coupled with the great sounding overdrive with adjustable gain.
I love it to see a guitar player's big smile when using my 35,000 year old guitar with the most futuristic pickups ever devised.I have committed time to work on my guitars using the latest innovations
.I have now exclusively devoted my time making guitars and have invented the Ultimate Lo-impedanse pickups with overdrive! and now! we have a FX model guitars with Overdrive-Digital delay- and Chorus in production.
Making the best sounding electric guitars in the world, is my greatest passion!!! Joh Lang