The only low impedance  pickups in the world with overdrive.

  

    
Read the pickup ANTHOLOGY, all about the Ultimate low-impedance pickups .

Lo-impedance pickups means longgg cables and no loss of treble. It has the widest frequency range ever and a louder out put . Only 100 Ohm resistance and not the usual +/- 8000 K you will find in other pickups.
Push the switch and you have a great sweet sounding overdrive with a volume pot to set the amount of gain.
When the overdrive is activated a LED lights up in the switch plate when playing.






 Langcaster custom made guitars have a Carbon fiber cavity.

Carbon is conductive and strong as steel , many companies are too lazy to correctly  shield guitars.

 The switch plate has an LED and the rings round the pickups are hand made like the pickups.

 The Battery can be opened  from the back plate in a battery holder. The battery lasts +/- 800 Hr.
Langcaster with Amber and Kauri gum the oldest wood ever used in a guitar ! 35000 years old.
Classic carving pattern head stock
Paua shell truss rod cover.

No solid body guitar sounds cleaner than the Langcaster.
"Don't believe me ?" SEE THIS MOVIE!

Read what the proud owners of the Langcaster guitars have to say !

20th Century Guitar Magazine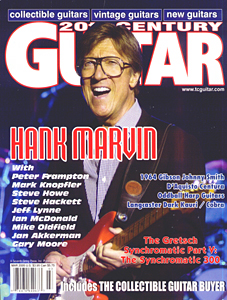 Read the review in the Feb/March issue of 20th Century Guitar Magazine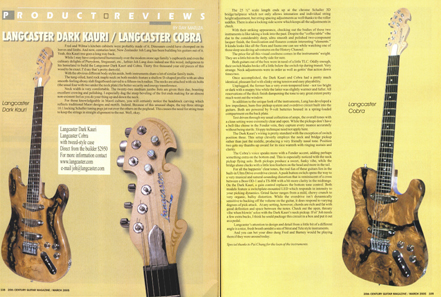 ALSO, REVIEWS IN ...
Dutch Magazine "Music Maker" names the langcaster as the Bentley of Guitars.

German Magazine "Gitarre & Bass" have seldom seen a guitar that special.

Sweden "Fuzz Magazine" Guitar Ace Jan Akkerman on 35000 year old stunning Langcaster guitar.

Dutch Magazine "Guitar Plus" Jan Akkerman writes "the most beautiful instrument you can imagine

| | |
| --- | --- |
| Rave reviews in many magazines | Langcaster the "Bentley" of guitars |


( Click on the cover )
Langcaster Guitar Review in Gitarre&Bass Magazine, January 2004.
Europe's most respected and largest magazine!.
For us testers there is seldom the possibility to take something special under the loop.
Therefore my eyes flashed when they told me of a guitar, which shortly ago appeared in the joined short tour of strings acrobats Steve Lukather and Jan Akkerman made its striking appearance.