Langcaster Testimonials

Please send me an e-mail if you would like to add your own testimonial to this page.
The Word is out and the excitement is spreading about Langcaster guitars and the revolutionary Lo impedance pickups with overdrive.
At Langcaster, we understand what a leap of faith it is to order that special guitar of your dreams that will cater to your musical taste and desires over a website or through emails.
Customer testimonials are very important to us and we have been privileged in receiving a number of positive responses from the proud new owners of our Langcaster guitars.
Hopefully, these unsolicited comments from our customers, will inspire you to take that leap of faith and become an owner of a Langcaster 35,000 year old swamp kauri wood guitar.
Our mission is to make the finest guitars with the most advanced technology in the world today. Making you the best guitar player you can be and having your complete satisfaction are our main goals.

Listen to " First light" by Jim Wiehoff Texas USA on his langcaster guitar

Here are some of the replies we have received from the proud owners of Langcaster guitars.



To protect the writers of these emails from spam mail, we removed most of the email addresses.
  If you would like to contact the writer, let us know and we will ask for their permission to be contacted
These are reviews placed on Harmony-Central Guitar database, follow the link.

http://www.harmony-central.com/Guitar/Data4/Langcaster/

From Holland, England,USA, Canada, South Africa, New Zealand,Romania.

From one of the greatest guitar players and once voted the best player in the world!
JAN AKKERMAN - Ex Focus member and over 70 Lp's and CD's to his name.
See www.janakkerman.com for a Langcaster guitar review.
Translated from Dutch to English.
Hey Joh ..
Cees was here this afternoon with my hand made Guitar.
I find this a real beauty !
I just mailed an article to GuitarPlus magazine with the announcement that it isone of the most beautiful Strat versions I have ever played on .
C.U. Jan Akkerman
-------------------------------------------------------------------------------------------------------------------------------------------
From Jim Wiehoff Texas USA Langcaster Anniversary model LA-8
Listen to the great songs played on this Langcaster . see this page on :


to: joh@langcaster.com
From: "Wiehoff, Jim (JSC-ZF)[THE BOEING COMPANY]" <jim.wiehoff----@nasa.gov>
To: Langcaster <joh@langcaster.com>

Hey Joh,

The guitar arrived today in perfect condition.

It is an amazing, amazing instrument. I plugged into my old Fender Quad Reverb direct with no effects other than a touch of reverb from the amp and heard the most perfect blues tone that I have ever played with my own hands. It was awe inspiring. The built in overdrive is outstanding with a nice warm crunch at the low setting and rock solid distortion at the high gain setting. The neck and frets are perfect and she plays as good as she looks. And WOW!, she looks GREAT!, even better than the photos. I spent about 15 minutes out in the hot Texas sun just to admire the glow of the kauri wood and the deep details of the amber. It's a humbling experience to hold 35,000 year old wood in your hands and to realize that it predates nearly all human history. It is art of the highest caliber.

Joh, I am a happy man. I bought a Robert Taylor acoustic last year and it ended my search for the perfect acoustic guitar. Today, you ended my search for the perfect electric guitar. It's the finest guitar I have ever played, and in 35 years of playing I have played quite a few. If I didn't have a space shuttle in orbit, I wouldn't be at work tonight! Ha!

I'll be sure to post a review in Harmony Central and feel free to use all or part of my comments for your testimonials page.

Thank you so much, and a special thanks for the nice book on New Zealand. It's a beautiful place and I hope to visit there someday.

All the best!

Jim
-----
Thanks Jim and special thanks for putting Langcaster on your space as you work for NASA on you shuttle! ha! Keep rockinnn
Joh Lang Langaster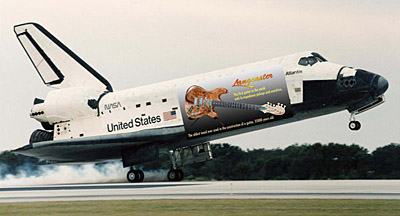 --------------------------------------------------------------------
From Germany
Kai Hetzel <kjhz06@googlemail.com
Hi Joh,
As you know i was one of the lucky guys who had the privilege to pick my guitar directly in your workshop in New Zealand. First of all I have to say that you«re the nicest guitar builder one could imagine and that you are totally enthusiastic about what you«re doing. You gave me an extensive tour of your workshop, showed me everything in the process of making these unique instruments, from the raw kaori wood to the making of the pickups. It was really cool that you took all the time and offered me coffee as well :-)
I cannot really write anything new to what the other guys before me have written already.These Instruments are simply great! I can only describe the process of picking the «right« instrument. Joh, you were really patient with me, as it took me hours to figure out wich one to take. Why? Because they«re all so damn good and desireable. So if anyone considers ordering one via the internet, i«d say any of them is fine.
In the end I went for the one that to my eye was the most pleasing in terms of looks, the LA 5. Because they«re all so good and the quality level is so high, that was the only way to go about it. In fact, if i«d had enough funds, i«d probably taken at least three of them...:-)
I also have to point out that compared to what so called custom shop guitars of the two big brands cost, these «really« hand made guitars are totally not overpriced!
You get a unique instrument that most certainly no one in your area has ever seen before. And they look even better in real life than on the pictures. Everyone i showed the instrument was absoluteley amazed. And that«s even before I played a single note.
You could simply consider it a work of art in itself.
The sonic possibilities are endless. And the pickups are crystal clear. You get much more definition out of them then of any other pickup i know. And if you don«t want that super «hifi«- sound, just back off the highs a little bit and you get a really warm tone that could
also pass as an archtop- sound. Take the middle position and you get the Tellie- Twang. Use the Bridge- Pickup in conjunction with the built in distortion for soaring leads....etc...
But what i like most is the little blue light that blinks when distortion mode is on and you hit the strings...really cool- I know I am silly..but so it is :-). Well and the headstock is just so beautifull....mhhh I think I should stop now in order to leave some space for future owners. Hope to contribute some music- files in the near future as well!
So anyone who is still in doubt...get one of these guitars!

Kai
Marktheidenfeld,
Germay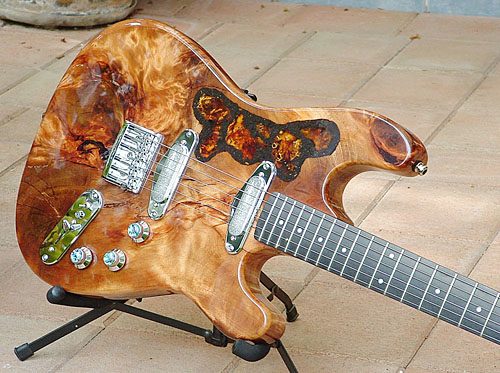 ---------------------------------
From California USA

From: "Michael E. Cantrall, M.A." mec...@cpda.org
Subject: My New Langcaster Guitar
Hi there Joh. I am sorry I haven't been able to write you to tell you how extremely pleased I am with the guitar. I am the head of a fairly large organization in California and I must travel constantly. Right now I'm getting ready to leave for Monterey, California. I will write when things slow down and give you a detailed report. I want you to know that you are a genius and an artist and a musical scientist! What you are creating is unheard of over here.
I have never before (in my 38 years as a musician) played, seen, heard, or been affected by any musical instrument in the manner that my Langcaster affects me and my playing.
It is unlike anything I've ever heard or played and it is like heaven to play it. People are also affected by the musical nature of this instrument. I am so happy that I took the leap of faith and purchased this guitar from you way over there in New Zealand. It was a big leap of faith, but this guitar is unlike anything I've ever had before. Nothing compares to it in any aspect - looks, feel, vibration, the perfect construction and melding of the materials to each other, the pickups you have designed, the built in effects are better than any of my pedals or rack mounted gear. The tremelo system and bridge are the best of anything I've seen. I have so many guitars that it would be embarrassing to tell you the number. All of my stuff is top of the line and I also love them too, but this is quite different. I will be watching your web site to see what else you create. You are an artist!
I am so happy that I met you over the Internet and discovered your creations. I also want to tell you that your love of your craft comes through in your emails and the photos you have sent me of the various building stages of my new Langcaster guitar. It is a treasure to have the photos of my guitiar from the moments it was being cut from a huge tree to the point where it was ready for shipping. What a treat!
Best wishes to you and all of yours over there.
Michael
Northern California, USA
-------------------------------------------------------------------------------------------------
From Oregon - USA

From: "Mark Keller" <me....@charter.net>
To: "Langcaster Ltd" <joh@langcaster.com>
Subj: Re: the L20 guitar
Date: Tue, 28 Mar 2006

Hi Joe!
It got here today! It is sooo beautiful and I am so happy with it. The natural sustain it has is super and very impressive--even with my little Marshall 30W studio amp. It plays so smooth, Joe---really a work of art. What can I say that others have already said!!!! Just plain great! Neck fits my hand perfectly too. Action is perfect for me too! So happy with this Joh. You, your boys and everybody else in your shop receive my gratitude and appreciation for craftmanship and artistry. I wish I could shake your hands, all of you!!
Thank you for your dedication to guitars, Joh. You have added a new dimension to my life with this instrument. Now I need to learn to play it well huh!? Lucky I am so good on bass, that will make it easier---now I just have to untangle chords! Hah!
It got here about 10:30 AM my time.
I am so glad for this Joh. There are some other soldiers with me who also play a little and they were very excited with it also. The same words came from them--Wow!
Can you tell me a brief description of the pots again so I make sure to have them right?
Hey, tell Chris (on your DVD) that my son really likes him and says, "I bet he is a really nice man!"
I told my wife I plan on 3 more instruments from you and she just smiled and agreed I should only get the best and thats you, Joh.
Boy I wish I could tour your shop--it must be fascinating to know all the sanding and work finishes with such a special instrument.
I am running off at the mouth--whew.
I hope you do not mind if I say hello every now and then and keep in touch with you? I know how busy you must be and how much email can come in.
Best regards and THANK YOU!---Mark

--------------------------------------------------------------

From Romania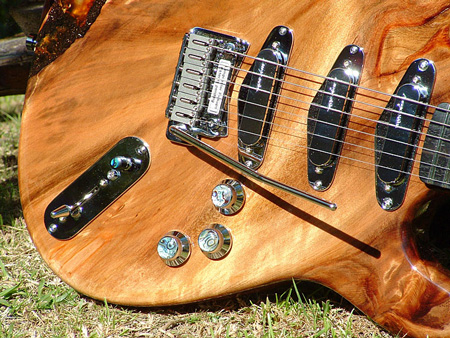 From: Radu Carlan <rideonband@yahoo.com>
To: info@langcaster.com
Hiiii Joh,
I took the guitar about one hour ago from UPS.
All I can say in this moment is THANK YOU ! IT`S INCREDIBLE.
My hands are shakeing.
I mail you tomorow after testing.
Radu.
Hi Joh,
This Lancaster sounds much more then I expected.
I had expected to sounds good but not like this.
Yesterday comes in my house 3 guitar players friends of mine , one with a Fender American Strat, one with a Gibson LesPaul with Seymour Duncan pickups and one with an Ibanez Steve Vai signature .
Wich one pleased me to let play to hear how my Lancaster sounds and I agree, After they played a little on my Lancaster they tooked their guitars to play and all three says " something is wrong?? , my guitar not sounds 100% anymore?.
Thanks again Joh ,
Radu.
Ps Langcaster 34 asked me to salut you!

From Holland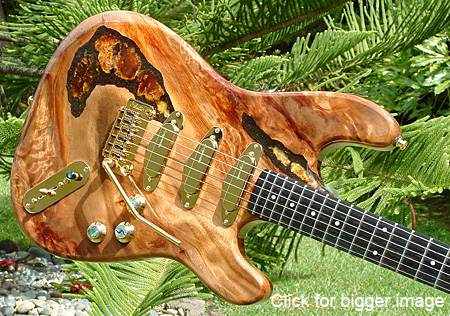 This stunnig guitar is made for the Dutch Jazz-/Fusionguitarist Hans van Ginneken
From: hans-v-ginneken@home.nl
To: Langcaster Ltd <joh@langcaster.com
He Joh!
This morning the Langcaster was delivered at my address by UPS.. Phantastic ah!
Opened up the box, and there it was! My new baby! Those looks, mindblowing and a real piece of art!
First put the knobs back on, tremolo, playing acoustic... very nice sustain in the guitar itself.
Then put it in the Holland bassman, geeee, what a beautiful sound.
It really sounds far better than all Strats I had/have, those are all for sale now haha!
THANKS again Johan, for your craftsmanship, youe eye for detail, your customersupport, for being the Flying Dutchman as you are, and last but not least for your kindness and helpfullness, bringing guitarbuilding to a whole new level!
Keep in touch!
Hans.------------
Well Joh, This guitar is staying with me till I'm gone! I sold my best guitar, the '83 Gibson ES 335 with a '73 Fender Pro Reverb . I used two other overdrive pedals too and my superwah and now they come alive for the first time with the Langcaster signal. Supergood vintage sounds knocking everyone off their feet!
ps,
I think it very strange all famous or good guitarists play shitty guitars. I ask myself what is wrong with the ears? I don't understand at all!Well Johan, I tried a 15" speaker last week and it sounds really magnificent! I'm gonna buy me one such speakers in near future!

From NY - USA
This player has now 3 Langcasters and the latest FX model!
From: "Gerry Attanasio" ...nasio@nyc.rr.com
To: "Langcaster Ltd" <joh@langcaster.com
Subject: Re: It's here
Date: Tue, 20 Dec 2005
Hi Joh,

I'm still rockin and a rollin on my Langcaster FX.I bought the FX over to the local Sam Ash to check out low wattage amps and man did everyones head turn when I whipped out the FX.I plugged into a small Fender with a clean sound and very lil reverb,I then kicked in the overdrive and delay and before I knew it,I had a small crowd hovering around me.Everyone was amazed at the sound of the FX's onboard effects.I let a few of the salesmen check it out and one comment was"This is the way a guitar should sound,even without the effects this guitar sounds better than anything we have in stock."
And he's right,I own some expensive "custom shop" guitars from Fender and Gibson and nothing comes close to the Langcaster FX.The neck is the best in the business,as are the pickups.The effects are wonderful,the overdrive,chorus and digital delay are so good my effects pedals are gathering dust.You can play just about any style just using the onboard effects.
The fossils in the FX model have a 3d quality that the pictures miss.The best thing is the guitar sounds better than it looks,LOL!!I'm having a lot of fun with the FX.I love the sounds I get when I have the overdrive on with either the delay or the chorus.I'm having so much fun that I'm not going to work today,LOL!!!

I consider myself one lucky guitarist,not only do I own four Langcasters ,but I am the first one in the world to own a Langcaster FX.It just doesn't get any better than that!!
Thanks again Joh for making these incredible guitars!!!

Still Rockin
Gerry
-------------------------------------------------------------------------------------------------------------------------------------------------
From Phoenix AZ - USA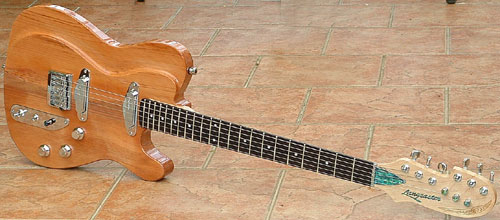 From: "Bill Councill" <b......@cbseng.com>
Hello Joh -
I received the Langcaster Slim Line guitar today and it is far more handsome when viewed personally, as opposed to e-mail images. The Slim Line is the most stunning guitar in my collection, and I have some real winners in that collection!
The neck is one of the three easiest necks I've ever played. I haven't played it enough yet to determine if it is the finest neck I have played.
The guitar has a massive sound. Even on my Emery 1-watt custom amplifier, the Slim Line was pushing the Emery/WeberVST 12" driver really hard. Then, I connected the Slim Line through the Emery amp to a 2x12" cabinet with two Celestion Vintage 30s, and oh, the loveliest sounds I've heard from any guitar in a long, long time emanated from the Slim Line.
Those sounds were not mine, of course, but Jimmy Page's remarkable early guitar work and those of my favorite blues' players: Albert King, Hubert Sumlin, Muddy Waters and Jimi Hendrix.
I then connected the Slim Line through a line up of pedals I routinely use for my signature blues sound, then through a custom studio Blues amplifier built by the staff of Indigo Studios in Santa Monica.
The Slim Line plays very well with effects pedals; but really doesn't need the ordinary pedals required for Strats, such as Fat Boost and Mid Boost pedals. I then connected the Slim Line via a Fulltone Deja Vibe, as used by one of my favorite players, Robin Trower, and the rotating Leslie sound was right on, especially when used with the Slim Line's onboard overdrive, which is far better than the Levinson Blade guitars' onboard overdrive or boost drive.
Joh, I'm as happy as any man who has received the most wonderful toy of my life.
I can say now Joh that your guitar is the work of great work and design. Never had I ever thought I would enjoy playing a guitar as much.
The possiblities with the Slim Line are almost infinite.
BTW, I used the jack with the resistor to see if I could minimize the volume on the 1-watt amplifier and still retain the best tone possible. It worked like a charm. By connecting the resistor jack to the Emery amp, I got a really nice softened volume, which will bother none of my neighbors at night, whereas, when using the regular jack, the sound was a little loud if I opened my guitars volume all the way, as I like to play much of the time. T he resistored jack already has proven itself worthy although I haven't used it yet in a stereo configuration of amps and speaker cabs.
What a great idea you had to add my requested second jack when you chose to add to the second jack a resistor!
Fantastic, my friend. You satisfied one of my greatest concerns quite easily, and that was to enable me to play my guitar in an apartment complex at night while other tenants sleep. The installation of the resistor on that second jack has, indeed, made my life easier and more enjoyable now that I can play at my pleasure any time of day or night.
I will be in contact via e-mail with you tomorrow once I have had time to get the sleep I need after a night of testing.
A very pleased, overawed, and happy fellow,
Bill
------
Hi Joh -
I'm still working on testing all my guitars against the Slim Line. So far it is one to three; the Langcaster Slim Line guitar against my GMW (a really great rock guitar, handmade from two pieces of solid 5A curly maple), my Washburn Nuno Bettencourt NAMM guitar (made of one lovely piece of quilted maple, what a beauty and well designed), and my Hofner Verithin (all maple laminate semi hollowbody guitar) against the Slim Line. The Slim Line was superior in sound to all of my just PLEKed guitars. All the guitars were at their finest. Some electronics work was done to ensure that two of the guitars were setup electronically as they were designed schematically. It was unbelievable; but, two of the guitars the Washburn and the Hofner were nowhere connected as designed. Both their soldering was exceptionally poor enough to affect playing adversely. But, when they were returned in better than original condition, none held a note to the Slim Line! More later.
Bill
--------------------------------------------------------------------------------------------------------------------------------------------------------
From LA - USA
From: Israel323@aol.com
Date: Tue, 20 Dec

To: joh@langcaster.com

Dear Joh,

What can I say, that has not all ready been said about your guitars. I rushed home from work, gently opened the package and with great trepidation opened the case. The guitar is more beautiful than the photos. I sat with it awhile watched the enclosed DVD's.

Than I played it. It was almost in tune right out of the case. I would have e-mailed you sooner, but I haven't stopped playing since I opened it.

The sound is awesome!!! I love the ability to go from warm to bright. to mix and blend pots. I had to stop and see if I had a sustainer on. I have to stop writing now. Must go play.
It was pretty amazing. The guitar is exactly the way I would have ordered it. The fact that you had it available and that it got here so quickly,

I feel like I've instantly become a better player. It's as if it plays itself.

I will definitely do a review at Harmony-Central. Probably next week,

I only hope more people find out how wonderful your instruments are.

Yours Jonas
------------
From NY - USA This player has a Langcaster Strat & Tele model
From: "Gerry Attanasio" ...anasio@nyc.rr.com
To: "Langcaster Ltd" <joh@langcaster.com
Subject: Re: It's here
Date: Tue, 10 Nov 2005
Hiyas Joh,
I've done some tests with my custom shop teles and strats and the Langcasters,they are indeed obsolete.
I recently bought the Fender Eric Johnson strat,it was the best production strat I've heard.But.......it's noisy when you use the single pickup modes.
The inbetween sounds are hum cancelling so no problem there,and it's hot,for a fender.
The Langcasters are way hotter have a more pleasing sound and are pretty much noise free even in high gain settings.
I haven't run the guitars thru all my amps yet but I can tell right now these guitars have a mojo all there own.
Joh, I'm rockin big time,
I've been testing with my amps and the Behringer V-amp,which is like the Line 6 Pod.and the Line 6 Pod itself.
I've always like the V-amp for it's clean sounds,but never cared for the high gain stuff.
That was until I got your guitars.Wow,the clean sounds are spacious<misspelt>and the high gain sounds nearly ripped my ears off.

My favorite tones were thru my Pritchard Sword Of Satori amp.
Eric Pritchard makes boutique solid state amps that kill the livin shit out of just about every amp I've ever owned,and after years of playing thats a lot of amps,LOL!!
I have boutique tube amps,fenders etc but like you he is a true visionary.Check out his website at pritchardamps.com

Both guitars work great with all my amps,I like them best with the Pritchard,as it's a 2 channel amp,with plenty of gain.
It also has a watts control,so I can get my sounds at a low volume.
Mostly I like amp distortion best,however before I got the Pritchard,I was using the Maz 38.It's a great amp but it's also a one channel and needs to be cranked up to get that sweet spot.With the Maz I was using a Fulltone Fulldrive,also a Fulltone Soul Bender,which is a fuzz box.
Don't need those anymore with the Langcaster and Pritchard combination.
I like using the clean channel on the Pritchard and the overdrive on the guitar,sounds unreal, It gives me a equalivent of a 4 channel amp.I love the overdrive on these guitars!!!
I still dont have a favorite Langcaster,I love them both equally.
There's sounds that I can get with the tele model that the strat cant do and vice versa.
Amazing since they're the same pickups but the tele is wired a lil hotter :)

By the way I sent the girlfriend home to her mother,while I play my ass off,my stomach needs a lil break,LOL!!!
I wish I could thank you in person for the wonderful job you did on these guitars,I'll do my best to spread the word,right now I'm the happiest guitar slinger on the face of the earth.

-------
From England
This is from a father and son. He bought a Kauri Strat shape Langcaster and his son bought the Cobra in black.
Both guitars have the Ultimate-Lo pickups and overdrive.
From: "Simon Dickason" .......@dickason.plus.com
To: "Langcaster Ltd." joh@langcaster.com
Subject: The Eagle has Landed!!
Date: Fri, 13 Aug 2004 15:13:02 +0100
Hi Joh
Yeah baby!!!
We have them now.
Nick has been setting his Cobra up to take to the Manchester gig tomorrow. He's really happy, its got a very crisp sound, much less muddy than the Les Paul but man those pick-ups are HOT!! He had to trim down the inputs especially on the clean patches.
I couldn't believe it when I opened up mine, it looks wonderful in the flesh, it must be one of the best looking guitars I have ever seen!! The pick ups don't seem as hot as Nick's but I really like the way they sound. Very clear and glassy, and they are so articulate. I've not had a chance to really get to know her yet but this weekend I will certainly spend a lot of time playing.
As for the overdrive I've not had a chance to really try it, Anyway, I guess we will get a chance to play around over the weekend.
I'm blown away by this stunning guitar, thank you so much.
I'll let you know how Nick gets on at the gig, I'm sure he'll get asked a lot of questions about the Cobra..
Best wishes,
Simon.
-----]
Hi Joh,
Well, I just had a chance to play her for real, and my god I swear those pick-ups are supercharged or something! They are soo responsive I have to be more careful how I play or they will show up all my mistakes! I love the clarity of the sound they give out, especially on a fairly clean setting, and like you said with a little delay (and soft chorus) it really sings out. I will try with the overdrive tomorrow.
Nick has set his amp up for the Cobra and is going to use it on his gig tomorrow. He is really pleased too and asked me to thank you. It's the best guitar he has played, and he loves the sound and feel of it, and yes the Cobra eye looks cool in the dark!!!
OK, thank you again Joh for these two beautiful instruments. I'll send you some pictures from Nick's next gig in Bristol next week.
Best wishes
Simon
PS ­ Nice colour case! I bet it glows in the dark!!!!
-----------
Hi Joh
Nick is playing at the Limelight club in Crewe tomorrow. Nick is so pleased with his Cobra. He told me it's the best guitar he has played and I'm really pleased. That includes the many guitars I have owned which Nick has played (PRS Custom, Steinberger USA, G&L Invader, Brian Moore, and countless Fender/Gibsons), so I guess that is high praise indeed!! I'll write to you tomorrow after I talk to Nick about the gig and let you know the reaction to the Cobra. I wish I was there to see the audience faces ­ they've never seen one before!!
Take care
Simon
------------------------------------------------------------------------------------------------------------------------------------------
From Texas USA,
This email is from Leslie, a Lady in Texas that has a nice collection of custom made guitars. She has a Strat shape dark Kauri Langcaster with passive Lancaster pickups and now the Cobra with the ultimate Lo-impedance pickups. She has also pre- ordered the first Lancaster FX guitar I will offer for sale in the near future! She has put a BIG smile on my face with the following e-mail.
From: Vision1...@aol.com
Date: Sat, 22 Jan
Subject: OH MY GOD!!!!!!
GOOD AFTERNOON JOH!!!!!
I held off writing this email until I received both the Cobra and the Dark Kauri. I wanted to express my joy of having both of these magnificent guitars at the same time. I knew I was going to see something incredibly special since I have looked at these guitars on your website about a hundred times but seeing them in pictures and seeing them in person is like night and day.
I received the Cobra first. I have four other hand crafted guitars but this was the first time that I just stood there and stared at a guitar before I could even pick it up. It is absolutely, the most beautiful guitar I have ever seen. Complete perfection!!!!! The Cobra carving just stops you in your tracks. The details that went into this carving is unbelievable and the puau shell outlining the cobra actually sparkles when the light hits it. The finish is perfect, the Kauri wood is beyond words and the carved motif headstock adds the finishing touches with the Paua logo inlay, truss rod and tree strings. What more could I ask for? An instrument that sounds as great as it looks. Joh, you are a genius inventing the electronics for this guitar. Nothing sounds better!!!!! On a personal note, turn down the amp's master volume. Mine was set on 4 and the first chord I hit made my hair stand up and I didn't see my cat for two hours.
Playing this guitar is an adventure. The sound that comes from combination of wood and the Ultimate Lo-impedance pickups is amazing. As promised, they are so quiet - no noise at all. You are a Master!!!!!! I never knew I could get so many different sounds from one guitar. On the clean mode, you can get a wonderful mellow sounds and when in clean/overdrive mode, the guitar can scream. INCREDIBLE!!!!
Next came the Dark Kauri. I didn't think anything could be as beautiful as the Cobra but the Dark Kauri with the 35,000 year old wood amazed me even more. I spent a long time looking at every inch of this guitar. To actually see leaves and gum that have been preserved in the wood is an experience. I think I actually have "Jurassic Park" in my guitar. Maybe I am being a little dramatic here but holding a guitar that is made from 35,000 year old Kauri wood, was a spiritual moment. This wood was on this earth before man. UNBELIEVABLE!!!!!!
Again, the tone is amazing and it feels like the guitar is playing itself and taking my hands along for the ride. It has a very vintage sound and every note just blows me away. It is great to know that I have the last of your guitars that has the passive pickups and an added bonus of having one of the few with the block inlay. I am so special. :)
You know I am more of a collector than a player but can still appreciate the fantastic sound and tone that these beautiful guitars produce. These are just not the best guitars I have ever played but amazing pieces of artwork. I am glad I have them now before the price is beyond my reach and before some large guitar company buys you out for millions.
I don't know what else to say but THANK YOU, THANK YOU, THANK YOU. After seeing the Cobra and the Kauri - I will be looking forward to seeing your latest FX baby. I know it will be just as special if not more so. These guitars should be in the hall of fame. I will be one of the few that has three of your guitars and the first woman. Who ever said that only men can appreciate guitars!
I am now bowing to your greatness and will sign off. There is a Cobra and a Kauri waiting for my attention!!
Thank you so much Dutch man. You are the greatest man alive and I am your biggest fan!!!
Leslie - still smiling :))))

----------------------------------------------------------------------------------------------
From Northern California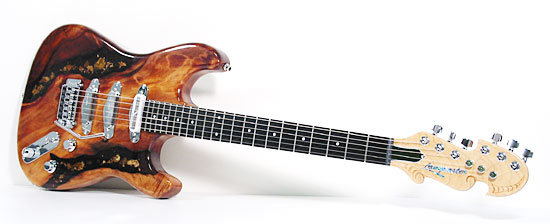 From: CapnMike .............@sonic.net
Hi Joh,
That's it!!!! Yes! It is most stunning. I love this dream machine. It looks so good in concert. For myself, at 52 years young, I look just as good. I'll update you Joh with some shots of, The Capn and guitar.
As I said in an email to you when I bought it, "This is a Medicine Guitar". I own a ranch in the coastal redwood hills of majestic NorthCalifornia. I'm a very fortunate guy indeed. When I play this guitar, those large, old redwood trees bring in some major medicine vibration. (I know you understand). It's from another time completely. This is an amazing facet about this 35,000 year old wood. You combined some major mojo in this one guitar. I feel it and people hear it.
I think this guitar should have a name; I think it should be "Stunner". It definately plays it's own song.
What a major joy tonight having you share in this experience with me. My sincerest thanks for your efforts on my behalf.
I hope to return the time and favor back to you some day.
Let's stay in touch and my genuine gratitude.
CapnMike, San Francisco Hall Of Fame.
------------------------------------------------------------------------------------------------
From South Africa,
From: "Johan " <jo....@mweb.co.za
To: "Langcaster Ltd."
Subject:\The guitar.

----------
Hey Joh
For the past week ,every bit of time that I could spare I have been blasting away on my new LANCASTER. What an absolute pleasure to play this baby.I also own eight other guitars ,amongst which, two Fender Strats and a Dean.I can say without any doubt in my mind that the LANCASTER blows them to bits.......definitely the best Guitar I have ever owned or had the pleasure of playing.
In the looks department it is extremely difficult to imagine the time and effort that it must have taken to design such a jaw- dropping beautiful instrument.The quality of the materials and hardware used are exceptional and overall I gave you full marks for finish ,craftsmanship and attention to detail.Excellent Joh the best I have ever seen. My only reservation in this category is that I am reluctant to use the lancaster for fear of scratching the instrument.I also wish to thank you for the bottle of cleaners that was send with the guitar.
Most importantly though is he sound I am able to produce with this baby.....AMAZING my friend.Having received the guitar I immediately realized that such an instrument deserves a brand new amplifier .I decided on and purchased a Peavey Classic valve amp........great warm , rich & Bluesy sound when plugged into the Lancaster......LOVE IT .
Your ULTIMATE LO impedance pickups are going to be a winner......The range of sounds that I have been able to get from this instrument is better than on any of my other guitars or any other guitar that I have ever played.Everything from real low down and dirty (with the assistance of the onboard overdrive) right through to the smoothest silky sounds , are attainable.
What a pleasure to bend notes on this instrument ....without any effort and extremely easy to control.....absolutely perfect for playing the Blues.I absolutely love the clean full sound this pickup is producing.
The action and handling of the guitar is excellent,the neck is awesome.It took me a day or two to get used to the slightly wider neck,but once that was over I actually decided that I prefer this to the standard fender neck.......specially for finger and slide work.Overall the feel and playability of the neck gets 10/10.
Joh this instrument is worth every dollar I paid for it....words can not properly express to describe how proud I am to be able to add this superb guitar to my collection
I wish to thank you for your excellent service and dedication .
JOHAN
P.S. please keep me informed about further developments ,I will be talking to you about your COBRA model soon.
------------------------------------------------------------------------------------------------------------------------
From the USA,
Purchased from: N/A
Joh directly
Features: 10
This is my second Langcaster.
Again incredible 35,000 year old Dark Kauri wood this stuff is so beautiful!
Cut like a Telecaster.
Has the new Langcaster LO pick ups (Low Impedance) and the build in Overdrive circuit.
Has 3 Single coils, the one at the neck being an 8-pole Pickup for better sound pick up on string bends.
5 way switch that gives you Neck Neck/Mid Neck/Bridge Mid/Bridge Bridge
Has the Langcaster neck made from rock maple with the nicely carved, headstock and the cool string guides. Ebony board Profile of the neck is a flat C shape perhaps a little wider then usual.
Earvana Nut (latest version)
Locking Tuners (mini schallers?)
Fixed Schaller bridge with multi adjustment points
1 Vol, 1 Tone and 1 "soak" knob (for the overdrive) and an Overdrive on off button (plus LED indicator)
Awesome case candy! Tweed case, all the documentation, Rubbing oil and cloth, strap locks and strap and coolest of all, nice long sleeve Langcaster T.
Sound: 10
Well I was totally blown away by my first Langcaster and so I had to have one with the new Langcaster pick ups.
They behave different from my first one so at first I thought they didn't sound as good as the Kinman pick ups (they are awesome) but with a little changing of the settings on my amp. WOW These pick ups are better! Super nice vintage sound full rich articulate. Also with the bends, a very nice aggresive sound on the neck pick up excellent.
Pick ups have very little to no noise (Tone knob seems to affect this). Set to their max, these pick ups are brutal with very good bass response much better then the usual single coil.
Also I am glad that Joh kept intact the best setting of all, the Bridge with Neck, a cool crips mixing with the twang awesome!
Then it has the overdrive circuit. It goes from lightly soaked to heavy rock, it doesn't go into metal or fuzz. It is a very nice well behaved overdrive. Something that I would've expected but didn't happen was a volume boost when in overdrive (although perhaps my Hotplate counteracted it)
I use a Holland Brentwood amp loaded with KT 66s, also a Line 6 Stompbox (Distortion) Modeller. Usually with Humbuckers I overcompensate towards the treble and the highs and on single coils the reverse, but these pick ups are so good, I had to back off from that a bit and not "jack up" the bass as much.
Action, Fit, & Finish: 10
Just got it new, everything is meticulous. A few spots perhaps where you can still see this is handmade perfection.
I had to get a bit used to the new neck since it is flatter and wider, but guitar overall plays great!
Pick ups were set up well, note that they are set up to work together in different settings, volume output will change a little bit from one setting to another.
Seriously buy this guitar .. it is a heartstopper when you open the case!
Reliability/Durability: 10
Well my first one is still rocking away. I imagine if this second one lasted at least for 35,000 years... ehh it should last a life time of mine and beyond. Rock rock hard this guitar body.
I don't gig much, but I'd entrust any gig to this guitar without a back up.
Customer Support: 10
Joh is the best.
I was fortunate enough that he had several bodies available, so I could pick the body and any and all options.
Joh takes care of his customers .. and oh he never seems to sleep because he answers almost all my emails right away!
Overall Rating: 10
I've been playing guitar now for over 10 years and I've played a lot of different guitars. I can say with confidence you wont find a better single coil guitar in the world except for another Langcaster!
Actually I got right back in line to get myself a matching Cobra made can't wait! and if Joh were to come out with a Humbucker style singlecut, I'd get that too! Can't go wrong with this guy, he makes the best!.
If my guitar were stolen .. I'd sell my PRS Brazilian in a heartbeat and buy another one! (I would keep my GMP Pawnshop Deluxe!)
Submitted by Pai Chung at 05/20/2004 22:13
------------
pkrc...@comcast.net> To: "Langcaster Ltd."
Subject: RE: Great!!
The guitar is here in perfect shape. The guitar is totally awesome and gorgeous! I love the sound of the LO impedance pick ups I love the sound from the 8 pole very nice. The distortion is nice but I'll have to play with it, I use a Line 6 stompbox modeller and other times I just crank the amp to overdrive it (my favorite sound) same the gain is not easily accessible.
Thanks for all the wonderful extras like the shirt, the cloth and rub and the strap now all you need is picks with your logo on it! .I loved the Neck with Bridge active setting. It looks like this setup is volume, tone and mix for the overdrive right?
I noticed the new neck, it is flatter and a little wider, for me that takes a little getting used to, I am used to Fender and Brian Moore necks and Les Paul necks.
This guitar is going to get a lot of playtime!
Thanks for everything.
In Christ,
Pai
-------------------------------------------------------------------------------------------------------------------------------------------------------------------------------------
From Canada,
....@klabe,,,.com To: "Langcaster Ltd."

Hi Joh,
The more I play my Langcaster, the more I like it. FANTASTIC pickups! I have six guitars now (many quite nice) and find that I'm now playing yours more than any of the others. Thanks again for a great instrument!
I know that you are probably into more modern sounds, but have you ever tried your Ultimate Lo pickups through an amplifier with a vintage topology? Something that gets its distortion through the power amp rather than the pre-amp? The sound is AMAZING! You owe it to yourself to try a really good amp with traditional wiring. If you can find it, try something that uses KT66 tubes in the power amp. Really, really nice. Sweet, focused, very warm. Try a Langcaster like mine, using the bridge and middle pickup with the tone control just a little less than full on. The very best blues sounds ever! Your pickups are perfect for power amp distortion!
In addition to sounding lovely, my Langcaster plays very well. Good neck. Good set up (for me).
What are your plans for new guitar models? Ever think about making a hollow body? Not your style, I guess, but if you ever need someone to buy your first, I volunteer. Your Ultimate Lo pickups somehow pick up (no pun intended) the acoustic sounds of picking and my fingers moving on the strings. That is a great thing for a jazz type hollowbody.
I have two Godin's and think they are a great value for the money. Your pickups would work great in that kind of configuration. I would love to have a really high quality hollow body with a blend of acoustic sounds and your pickups. Wow!
Hope all is well with you, Joh,
Kirk

--------------------------------------------------------------------------------------------------------------------------------------------
From the USA,
From: "rick" rick@americanguitarboutique.com To: "Langcaster Ltd."

Hi Joh
Yeah got them they went to our office......... I have this to say! THESE ARE FANTASTIC!!!!!!!!!!!! The most Amazing I have seen by far!!!!!!! You are the man Joh!
------------------------------------------------------------------------------------------------------------------------------------------------------------------------------------------
From the USA,
From: Bluesmaster..@cs...com

Subject: Incredible Guitar!!!!!!!!!!
To: joh@langcaster.com
Joh!!
Wow!!!!! If you didn't hear me shout it, I just opened up one of the most incredible guitars I've ever laid my eyes on!!! I couldn't wait to get it tuned up and actually feel it in my hands to make music. This guitar has a sound unlike any of my other guitars, and I have quite a collection of unique guitars. I don't know if it is the density of the wood or the unique pickups that enrich the body or if it is a combination of the wood, the body, the ebony frets, or what it is.... I don't know. I've only begun to research this guitar and understand how you created such an instrument that can produce the most incredible sound that I"ve heard come from the guitar. I can't thank you enough for all of the sweat, hard work, and laborious hours you so graciously put into perfecting my instrument (that I can't put down), to my exact specifications! I wish I could meet you and shake your hand.
From the e-mails that we have traded you sound like a class act, a real people person, and your craftsmanship says alot about you itself! Your expertise is beyond compare! I feel that I have not only gained a priceless instrument, but friend as well! Also, thank you for everything that you included with the guitar! It is above and beyond, but it sounds as though that is the quality of your sales....above and beyond!
I think maybe I might be able to create a lot of interest with my guitar. So, don't be surprised if you get e-mails from me about more sales in the future. I hope that just because the transaction is complete, we won't stop hearing from you.
Thanks a million! Larry .

--------------------------------------------------------------------------------------------------------------------------------------------------------------------------------------------
From Canada,
Hi Joh,
Got it today! Left work early so I could play with it!
I've only had a couple of hours to play, but here are my impressions so far:
Beautiful and very unique looking. This I expected from the pictures.
The pickups ARE quite exceptional. Every harmonic generated by the strings is there in my face! Very loud (which is good -- one of my amps, a Maven Peal Zeeta, needs loud pickups to drive to sweet distortion without a boost pedal). Very quiet; I don't think my noise gate has much to do when I'm playing my new Langcaster.
Lots of sound colors. 'Strat-like sounds but with its own character -- crisper with more tonal variation.
I like the feel of the neck. It's quite different than any of my other guitars, bigger radius and flatter.
My initial feelings about the guitar are very good. Definitely going to sell my 'strat. I'll get back to you again after I've had more time with her.
Thanks very much Joh for a great guitar!
Kirk
P.S. Thanks also for the neat case and the other "goodies". You're a good man Joh!
--------
Hi Joh,
Just thought that I'd tell you that my Lancaster is still my favourite guitar.
I just bought a new amp. If you remember, I love vintage type amp topologies, where the distortion comes from the power amp. Many think that the '59 Fender Bassman was the best amp of all time. I've never heard a real Bassman, but, with that kind of reputation I just had to get the sound. I bought a recreation from Victoria Amps -- they seem to pay the most attention to detail in recreating the original (more than Fender themselves). Well, I can tell you now that the Bassman might REALLY BE the best amp of all time and that it sounds best with my Langcaster. To my ears, the Lancaster/Bassman combination is the very best guitar sound ever, bar none! It's also the most satisfying to play. (And I've played a few high quality combinations now.) The two work together as a single instrument that is amazingly responsive (and very revealing of any bad technique, too).
I hope all is well with you.
Thanks once more for a great guitar!
Kirk
-------------------------------------------------------------------------------------------------------------------------------------------------------------------------------------------
From the USA,
From: "dennis hook" <dh,,,,@cox.net>
To: "Langcaster Ltd." <joh@langcaster.com>
Yes Joh.. you ARE on a roll..
You have a great sense of humor, and you are pure pleasure to deal with . I couldn't have asked for more.
I have now played both guitars, the second just a little, but I can say with out a doubt they are the BEST guitars I have ever played, and the best looking, and the tone is fabulous.
You have done an incredible job. I am so proud of them I could never give them up for anything.
I will keep you up to date on your "babies" and how they are doing :)
Thanks so much.. it has been a real pleasure working with you.
Dennis
---------------------------------------------------------------------------------------------------------------------------------------------------------------------------------
From the USA
Purchased from: N/A
American Guitar Boutique - Minneapolis
Features: 10
This guitar smokes! 2003, Made in New Zealand by Joh Lang, www.langcaster.com. Made from 35,000 year old swamp wood, with a double truss rod and graphite rod reinforced neck and an ebony fretboard. This baby is one of a kind (he'll custom make it the way you like it) but has two Schaller pick-ups and a phase switch. He now makes his own pickups. This has a painted neck and transparent finish over the body. The body looks awesome. Locking tuners, unique headstock that eliminates the need for string trees. Came with an Australian made case.
Sound: 10
The sound of this guitar is unbelievable. The sustain is incredible and there is not a buzz to be found. The sound is full and bright. It has two quarter inch outs so you can run two amps simultaneously and achieve and unbelievable sound. Clean, you can make it sound like a high end electric accoustic. With a little gain added, it's a tone monster that sounds great with the rock blues style I play. It sounds so good I don't want to put it down!
Action, Fit, & Finish: 10
You'll need to try it to believe it. I have never, ever, picked up a guitar with such a true neck. This should be called the "fretless wonder" because there is no fret buzz anywhere and your hands glide over this baby. It's like a sheet of glass. You need to try one of these guitars. You will not find a better combination of sustain, action, and tone. I'm tempted to seal this baby up in storage because I know it will be worth a mint some day. Joh Lang will soon be known here in the states just like PRS. He's already gaining acclaim in Europe. I would buy one of these babies now before they shoot up to $10,000 - beacuse trust me, once you've played one, you'll want one.
Reliability/Durability: 8
Came with strap locks. Built very solidly. The finish on mine is good, but not great, as it was a proto-type (first one built with his revolutionary new neck design). But, it's like having a mint GTO with a little nick in it - you are still the envy of the group. Looks like she's built to last. The other ones I tried out at the store (American Guitar Boutique in Minneapolis) were not prototypes and had excellent fit/finish.
Customer Support: 10
Joh is great! He gets right back to you via e-mail and he has taken back guitars and altered/fine tuned them to better meet individual customer desires. His website is pretty good too, check it out.
Overall Rating: 10
I've been playing for 20 years, and this is the finest instrument to lay in my hands. Try one out at peril, because your wallet will end up lighter when you walk out the door with a new axe.
Submitted by Jake Catterson at 07/07/2004 17:47
-------------------------------------------------------------------------------------------------------------------------------------------------------------------------------
From the USA,

Subject: RE: Hiiii
From: "Skip " <s,,,,@nuance.com>
To: "Joh lang-Langcaster guitars"
Joh,
Everything about this guitar is great. People can't get over the beauty of the wood. The sustain is unbelieveable.
I had a player play it in New York this afternoon and he commented "You can strum it, leave the room and when you come back its still ringing." How fast can you make these. Lets say I wanted 4 just the same as mine, when could you deliver. I think I'm going to NAMM as well in Jan.
Thanks for everything.
Best regards,
Skip
---------------------------------------------------------------------------------------------------------------------------------------------------------------------------------
From New Zealand,

From: "brady" <,,,,@paradise.net.nz>
To: "Joh lang-Langcaster guitars" <joh@guitar.net.nz>
Subject: Guitar

Hi Joh,
I am absolutely thrilled with my new guitar! It makes a great difference to
the sounds that you can work with not having any hum to get in the way.
I can get all the strat sounds I like, and she also does tele sounds and has
her own tone palette as well. Its quite wierd not having ANY hum coming from
the pickups.
If you ever have any enquiries from people in Christchurch, who are keen to
check out your guitar but want to try before they buy, please give them my
contact details and I'll be more than happy to let them check mine out so
they know just how great they are.

And that body-what a body!!!
Thanks again!!!!
Brent
-----------------------------------------------------------------------------------------------------------------------------------------------------------------------------------
From New Zealand,
Thanks for making this nice photo composition for me! Cool!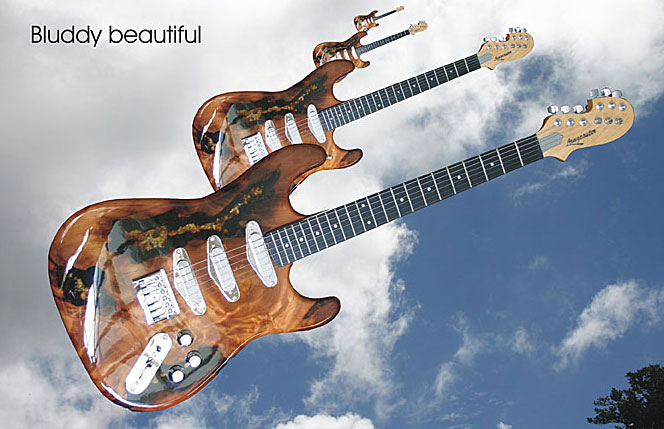 Date: Sat, 8 Jan 2005 20:00:54 +1300
Thread-Topic: guitar stuff
From: "Paul de Knegt" <P.........@tridonicatco.co.nz>
To: <Joh@langcaster.com>
Hi Joh,

Here's a bit of positive feedback for you from a friend of mine after our Jam on Friday night (& a nice pic!).

Most excellent thing I've laid eyes on in a long time. This guy Langcaster is a master craftsman
Not only does it look great - it works great !
Cheers
Paul (the one with the NZ Langcaster)
------
From: "Peter " <pal,,,,@ihug.co.nz>
Subject: Strat Bliss

Hi Joh.
On Friday I acquired your truly beautiful Langcaster from Shaun.
Visually it is the most stunning Strat style (and probably any other) guitar I have ever seen.
Even in my sadly, late starting and talent limited hands, the sound quality is matchingly exquisite.
Consequently I have had little sleep this weekend, but a lot of fun with the Langcaster.
I have long admired the use of Australian timbers by Maton and Bellman(?) but to now know that you are producing such wonderful guitars with NZ's 35,000 year old swamp kauri is really exciting.
To have one of your works of art myself is just great.
I wish you lots of success and fun in continuing to make these wonderful guitars.
Thanks, and very best regards, Peter Wood.
-----------------------------------------------------------------------------------------------------------------------------------------------------------------------------------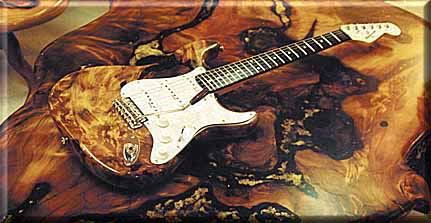 35,OOO Year old Kauri is hard to find and a treasure to own
Joh Lang can be contacted on:

E-mail
Po box 20266 Glen Eden Auckland New Zealand
References and phone number can be given on request .